Page not displaying correctly?
Download Google Chrome here!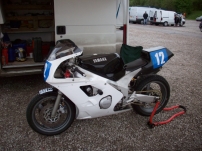 The year was 2009, the plan was to race the Mountain Course, the budget was well ermm... we'll leave the budget for now. Armed with nothing more than trusty FZR400 and a cup full of hope Team C.E. Racing made their debut at the infamous 3 Sisters circuit.
As the 1st year rolled by the team were but just 2 Col & Kylie (he hadn't made it to Jerry status yet!) Signatures in the bag from 3 Sisters, Aintree & Anglesey the orange vest was thrown to one side a succesful start to the campaign.
2010 saw an addition to the crew in Fat Bob - as keen as he was stupid! The bike was now a yellow flash and the Team was developing. More short circuits required to progress the license only now the heat was on as signatures only counted for the top finishers.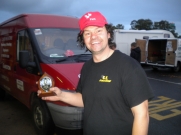 Valentino Croft was going to have to pull some results from the bag to progress. Visiting the same old haunts as well as adding Oulton Park to the list of venues proved for a challenging year, but all was on course.
A bagfull of top finishes rounded off nicely with a trophy in th elast race of the season at a very soggy Oulton Park
Now a National License holder all is looking good for a Mountain Course start, sadly in 2011 events transpired, time and money ran out and there was no MGP fairytale.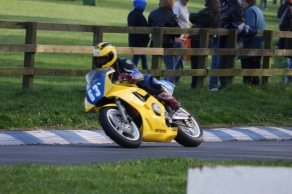 However, Kylie had now progressed to fully fledged Crew Chief and some Road Racing experience was gained. First up the Ian Watson Spring National at Olivers Mount - what an eye openenr that was. A tight twisty circuit with elevations that tested the 400's very being. A finish and signature nontheless and some new friends picked up on the way.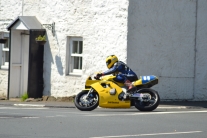 Onwards to the Southern 100 for what would prove to be possibly the best week of weather I have ever known on the Island. With plenty of friends and supporters over what a week it was. The Friendly Races sure lived upto their name and we even got featured in 2 bike magazines!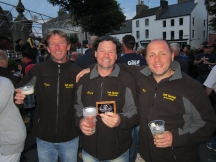 A full paddock including some of the top names from Road Racing and we were amongst it all. It wasn't all plain sailing however, with a dropped valve an emergency engine change was required. A bit of sheer grit, determination and big hammer saw a finishers medal come our way.
As 2012 dawned that elusive MGP start was in sight all we needed were a few signatures prior to the MGP closing date - simple right? Wrong!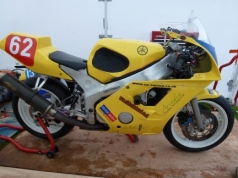 An early Elvington cancellation saw the team stretched to yet another new circuit in Donington Park to assist in the process. Signatures were bagged and and MGP entry accepted. A fortnight of Manx Weather couldn't dampen our spirits as we pitched our tents in the torrents of water.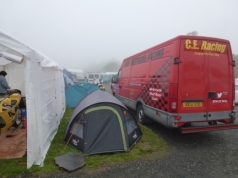 A succesful practice week saw us a solid 2nd behind the recently KMR signed James Cowton in the Newcomers C. Race week loomed and off it went down Bray Hill, sadly that solid 2nd disappeared into a breakdown in the Newcomers Race, but all was not lost as a Replica was received for a strong finish in the Lightweight. A cherry on the cake that was the MGP 2012.
And all that brings us to where we are now, 2013. The season is already upon us and the pressure is on again to secure signatures to get back to the Manx GP. There are a few changes this year - a change in class for Col aboard his 2005 GSX-R 600 and the addition of a 2nd rider in Bob aboard his very own FZR400 3TJ. Gentlemen start your engines....